OUR IMPACT
We invest in programs and initiatives to benefit the people of the Dallas area. Through our annual grant distribution, we provide support for educational, social, recreational and cultural programs in the Dallas area, directly serving youth, seniors and those in need. We also administer scholarships to benefit graduating seniors pursuing post-secondary education. We have touched the lives of many and will continue to make a positive difference in the Dallas community, for good, for now, forever.
2022 SCHOLARSHIP RECIPIENTS
American Legion
Sydney Curtis
Arvidson
Kaylin Olson
Karen Barnard Memorial Nursing
Morgan Shuck, Ana Garus, Emma Classen, EmmaMae Johnson
Charlie Bair Memorial
Royce Lavier
Jeremy Buller Memorial
Piper McKenzie
Dallas Community Foundation
Spencer Thiel, Graham Glazner, Joshua Sneewjagt, Emmaline Hankland, Elaina Toll, Justin Parnell, Trista Courson
Dallas Rotary/Carl E. Morrison Academic
Serenna Thorsen, Sydney Curtis, Molly Parsons
Dallas Rotary/Carl E. Morrison Vocational
Daphne Fuller
Department of Forestry
Sophia Baughman, Serenna Thorsen
Beatrice Gallaspy
Graham Glazner, John McCoun, Kieran King
Chester B. and Jeanne R. Healy Memorial
Daphne Fuller, Sydney Curtis
Hank and Wanona Kliever Memorial
Kayla Reede
Stuart Olson Memorial Culinary
Not awarded this year
Jerry Piering Family
Piper McKenzie
Paul Olliff Memorial Math
Graham Glazner
Rochambeau
Piper McKenzie, Nahla Hamilton, Toby Ruston
Helen M. Smith
Molly Parsons, Serenna Thorsen
2022 Grant Recipients
Bambinos, Oregon
$3,400 to purchase a customized version of the Polk County Non-Profit Database and first year of maintenance fees.
CASA of Polk County
$1,200 to purchase marketing and promotional materials and supplies.
Community Mediation Services for Polk County
$1,500 for telephone, internet and case management software expenses.
Dallas Education Foundation
$4,000 to provide small grants to teachers in the Dallas School District for supplies and resources to improve educational outcomes for students.
Dallas Emergency Food Corporation
$5,000 to purchase protein-enriched foods and personal care products to supplement the food boxes distributed to low-income families.
Dallas Retirement Foundation
$2,000 to provide scholarships for Dallas Retirement Village employees and volunteers for continuing education, professional development, specialized training and new degrees.
Dallas Youth Garden
$1,100 to support two internship positions for Dallas High School Students.
Family Building Blocks
$5,000 to support staffing and materials for the therapeutic classroom program and home visitation services in Dallas.
Friends of the Dallas Public Library
$3,000 to purchase large-print materials and audio books for seniors and the visually impaired.
James 2 Community Kitchen
$2,500 to purchase a commercial freezer and a commercial microwave for the community dinner program.
Kids, Inc. of Dallas
$2,000 to provide scholarships for youth sports registration fees.
Kindness Club of Dallas, Oregon
$3,900 to purchase fresh produce for the Friday Bag distribution program.
Polk County Family and Community Outreach
$5,000 to provide funds to support individuals and families in need of emergency assistance.
Sable House
$3,000 to provide trauma support and educational services to young victims of domestic violence residing in the shelter facility.
Salem Free Clinics
$5,000 to support Polk Community Free Clinic's core operating costs including wages, utilities, operational expenses, medications and medical supplies.
Weekday Bible
Provide for bathroom fan repair or replacement at the Whitworth building
ANNUAL REPORT
Each year we compile an annual report of our activities for the year, profiling our grant and scholarship programs.
COMMUNITY SPONSORSHIPS
2022 Community Sponsorships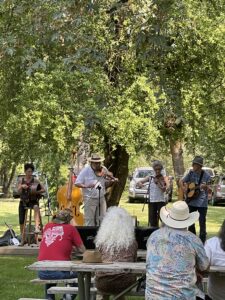 Community Paint By Number
Make Music Day
Art in the Park
Sounds of Summer
Family Building Blocks Polk County Luncheon
Dallas Food Bank Fill the Pantry Fundraiser